Biotique Bhringraj hair oil – may it grow healthy!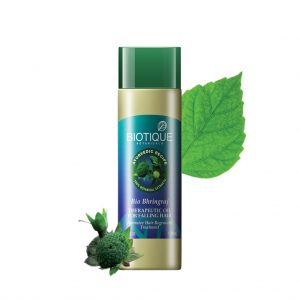 There is a wide range of hair oils used for hair oiling, containing natural extracts from Indian herbs. For generations, Hindu women have been using extracts of amla or bhringraj to nurture their wisps and protect them from damages. If your dream is to have beautiful hair, full of shine, that grows fast and is silky smooth – you must try out one of the oils with Indian herbs extracts.
One of the most interesting and worth recommending products used for hair oiling is oil from Biotique. It contains bhringraj extract and -something rather unusual – goat milk proteins. This component distinguishes it from other oils available on the market. 
Bhringraj from Biotique it a therapy stimulating hair growth. Bhringraj extract, enriched with coconut oil and amla ought to be massaged into the scalp and hair. Keep in mind that the massage should last for minimum 10 minutes. Thanks to this procedure, you will improve blood circulation, in consequence, it will absorb oil faster. Bhringraj from Biotique penetrates not only through scalp, nourishing and moisturising it, but also deeply into hair follicles, thanks to which it strengthens hair bulbs and boosts strands to grow. They become healthier, stronger and more shiny. Additionally, they are less prone to damage, easier to style and comb, scalp is thoroughly cleansed. Bhringraj from Biotique will help fight dandruff, prevent premature greying. Moreover, oils must be kept on hair for about 30 minutes. The best solution is to leave it in overnight and wash it off with a gentle shampoo in the morning. The product has a runny consistency, therefore, you use it with caution. Make sure to cover evenly your entire scalp and hair and be careful not to spill it and stain your clothes.
Bhringraj from Biotique is an oil that comes in a 120 ml in a nice, elegant, plastic bottle. It has a characteristic but delicate scent (in comparison to other similar products). Oil is efficient and lasts up to six months of regular use. It might be eben longer, depending on the length and of hair and frequency of hair oiling (bhringraj oil from Biotique should be used at least once a week).